The SUPPER FOUNDATION is a charity organisation born out of one man's love and vision for the impoverished people of Soweto.
Throughout his life he felt a calling to help those who had been disadvantaged. His particular burden was for the children. His mission started in the early 80's in Hillbrow, Johannesburg, but he soon felt the calling for the children and young adults of Soweto. With the help of Rhema and the residents of the township, he started soup kitchens and other feeding schemes.
The kitchens fed the hungry and shared life lessons from scripture. The needy flocked to the area and the operations grew in size. It soon became apparent that running the feeding scheme from the small homes of the volunteers was no longer sustainable, given the demand.
In the Early 90's the Soweto Care Centre was built by Rhema church and with their permission, he was able to run the program from a central point. Over a number of years, his ministry at the Care Centre grew in leaps and bounds. He ministered to and fed up to 500 children on a weekly basis. Additional classrooms were built and 9 separate Sunday school classes were run weekly. The ministry also funded education for the kids and blankets for the cold.
Sadly, in March 2007 circumstances dealt a cruel blow and the operations were suspended due to the loss of the use of the premises.
This did not kill the vision and in 2009 he started to run Children's Church classes, youth groups and soup kitchens from the backyard of a residence in Freedom Park, an impoverished area to the east of Soweto. In 2011 the SUPPER FOUNDATION was established. Starting with 20/30 children in a shack on a Sunday morning, the ministry has grown to over 500 children on a Sunday, 500 children on a Wednesday afternoon, 70 to 80 young adults on Friday evening, 500 children in Slovo Park on a Saturday morning, and  50 adults on a Wednesday morning for Bible Study.
"My vision is that the Supper Foundation continues the legacy of what I have begun in Soweto to provide the love, purpose and opportunity needed to make a difference. The long term vision is to build Care Centres throughout Soweto and the rest of South Africa, with a view to taking our young people off the streets and teaching them strong Christian principles. If we are to build a sustainable South Africa, we need to deal with future generations, giving them hope and a purpose. This in turn will assist with reducing the serious crime problem that exists in our land".
"My motivation is based on John 15:13 Greater love has no one than this: to lay down one's life for one's friend." Errol Ashman, Founder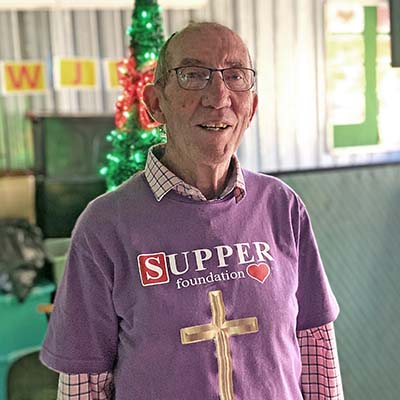 "My vision is that the Supper foundation continues the legacy of what I have begun in Soweto and provides the love, purpose and opportunity needed to make a difference. The long term vision is to build Care centres throughout Soweto and (the rest of South Africa in the longer terms), with a view view to taking our young people off the streets and teaching them strong Christian principles to live by. If we are to build a sustainable South Africa, we need to deal with our future generations, giving them a purpose. This in turn will assist in reducing the serious crime problem that exists in our land". Errol Ashman, Founder